USS SLC...Enlisted Navy...George J. Asea, MS2c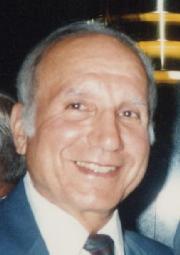 Sadly, Mike Asea, son of George J. Asea, reported that his father passed away on Tues. July 11th, 2006, after a long battle with cancer. He will be missed by us all.

George Joseph Asea, Sr. age 81 of Paterson, NJ. went to be with the Lord peacefully on July 11, 2006. He was born in Norfolk, VA. but lived in Paterson, NJ. for most of his life. He was a retired Firefighter for Paterson Fire Department, Truck Company #1. He was also a licensed plumber.

George was a man of many talents, including studying lapidary, building homes, and welding. His customers have often relayed to his family that, "George is just the nicest guy". George will be greatly missed by all, and his family would like you to cherish the thought that his last breath on earth was also his first breath in heaven.

Loving husband of the former Mildred Gloria Scherer. Devoted father of Linda Messina and her husband, Eddie, Michael Asea and his wife, Ronnie, Bonnie Schoen, and her husband, Bill, George Asea Jr. and his wife, Wendy, and Darlene Asea. Proud grandfather of Sherri, Crystal, Bree, Lance, Tiffany, Matthew, Brian, Amy, and Mark. Proud great grandfather of Madison. Beloved brother of Leo Hatem, Charles Asea, and the late James Asea. Also survived by many nieces, nephews, and cousins.

George was a WWII Navy veteran aboard the USS Salt Lake City CA25. He was a member and deacon of the Madison Avenue Baptist Church, Paterson, NJ.

He was laid to rest on July 14th, 2006 at the Laurel Grove Mausoleum, Totowa, NJ.
---
Oct. 19th, 2003

George Asea (Navy Bio)
Division A
Rank: Metal Smith 2nd Class
Served in the Navy Feb 1943 - Feb 1946
Served on the USS Salt Lake City Sept 1943 - Feb 1946

Before I was assigned to the USS Salt Lake City, I went to Bootcamp in Samson, NY. After this I went through training at the "Great Lakes" Training Station.

On Sept 1943 I was assigned to the USS SLC in Honolulu, Hawaii. I participated in all the battles in the South Pacific during my time on the ship.

Being in Engineering, all my tasks were performed below deck at General Quarters. My battle station was in "Damage Control." I enjoyed all the time I spent in the Navy, even though there were some rough times. The SLC was my home away from home. I thank God for keeping me safe throughout the years.

I haven't missed a single Navy Reunion, with the exception of Sept 2001. Living in the Northeast, all flights were cancelled during this time due to the tragedies of 9/11. I was happy when the decision was made to have the Navy Reunion every year now.

George Asea
Darlene Asea, Dau.
Mike Asea, son
---
SLC Deck Log Nov. 1943
#16 in "A" Division, 1944-Group ID#114
#06 in A Division, 1945-Group ID#115
Attended the Launching of the USS SLC SSN-716