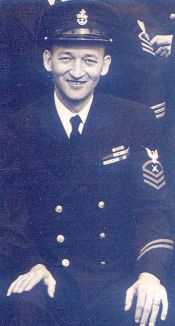 His duty at the time was a gunnery instructor at Bainbridge, MD. He rode back home with a Dr. Rosser when they had weekends off. It was a 4 to 5 hours trip. I think Dr. Rosser was a Commander. He was also a Physics Professor at Lynchburg College. Charlie asked Dr. Rosser as they were leaving the naval base one time if he knew anything about rocket propulsion, as he had a class to conduct the following week. Dr. Rosser replied he knew a little and started lecturing as if he was in class. After about 4 hours, Dr. Rosser asked Charlie if he had any questions.

After the service Charlie worked for C. W. Warthern, bookbinding business. His wife Evelyn also worked there in bookkeeping. This company did the bookbinding for the courts in Lynchburg, VA. and maybe other courts in the area counties.

He was a member of the Shiners' and participated in some of there functions.

He built a grandfather's clock from a kit. When other people saw his work he built another three clocks for them.

He has a son who works as a lawyer and a daughter who is a school teacher. He has four grand children.